Ditch the annoying twisty-tie and control your extension cords with this EASY do-it-yourself project!
Here's what you will need:
'- One cardboard insert from a roll of toilet paper.
'- One 7x7" square of self-adhesive shelf paper. (aka Con-Tact paper)
'- Scissors
Optional:
'- Decorative ribbon or other embellishments.
'- Glue
Directions:
Peel the release paper from the contact paper to reveal the adhesive side.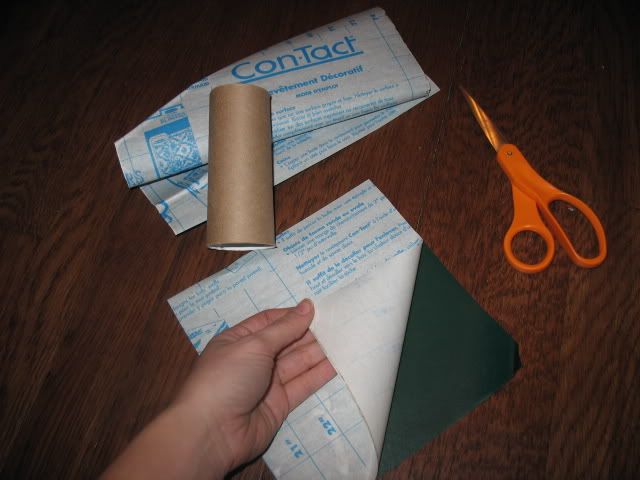 Lay your cardboard tube squarely on one side of the sticky side of the contact paper. Continue to wrap the adhesive paper over the cardboard tube, making certain to smooth out any air bubbles as you go, until two sides overlap.
Using the scissors, make several cuts from the edge of the excess shelf paper to the edge of the cardboard. Neatly tuck in each piece of fringe, adhering it to the inside of the cardboard tube. Repeat on both ends.
I've added decorative ribbon with fabric glue, but you can imagine endless possibilities using a number of embellishments. I've used plain hunter green contact paper because that is what I used to line my cabinets and drawers in the kitchen, but contact paper comes in lots of pretty prints as well. The brand I used was Rubbermaid.
Use:
Wind up your extension cord into loops that are longer than your keeper. Ease one end of the bundle into the cardboard cord keeper. Release, and the cord loops are held in by tension.
This would be a very simple project to entertain school-aged children.
Caution:
This cord keeper is intended for stored cords only. Bundling live electrical cords together can be a fire danger.